Lefkada Airport is not served only Lefkada island. But also Preveza and Parga. The people call the airport Lefkada's airport because the Mainly flow of tourists directed to Lefkada. The correct name is "Aktion" Airport located in the Preveza region. This small airport was visited by more than 350000 people. Is connected with all the cities of Europe, and easy you can fly in to. Lefkada's Airport opens in April and closes at end of October. that's a few words about "Lefkada Airport".
The area of Aktion has carried many historical attractions such as castles, museums. Of course, there stands the ancient town of Nicopolis, and much more places worth seeing and visiting. However, the deep blue beaches, the great Greek food, and friendly people. Creating memories by exploring all the nearby regions. Plan a 14 day round trip to Lefkada Airport by the best Car Rental PBG Limitless.
The Ultimate Road Trip of Lefkada Airport
Day 1 – Go swimming on Porto katsiki and take photos of the Lefkatas cape.
Porto katsiki, is not only the most famous because of the blue flag. Is one of the most beautiful beaches in the Ionian sea. People from all over the world come to visit that place.  However, the best time to visit is June, July, and September. Because of as fewer people as better for yourselves. The distance from Preveza Airport is 63.5km. Around to 1,30 hours driving. It is surely worth it!
Remember to take food, drinks, and water with you. Because of this famous beach. Fortunately, it is still unorganized. And this is positive because it is a beautiful natural landscape. On the way, there are many shops and supermarkets to get everything you will need. Just make sure that this side of the island is like a forgotten place. Remember something like the film blue lagoon. An amazing place that creates memories for those is visiting for a lifetime.
Nearby 6km is the Cape Lefkatas. easy reachable with just car rental. The road to the cape is accessible and easy. The view is great. Also, you can read a tale for Lefkada cape. Call a story that the lovers' Jumper to death in Ancient Greece. You can hear the tale from the locals.
Day 2 – A mountain driving excursion to Nikiana by car 
Find legends, discover myths at the mountain of Odysseus. Kind of Ithaca at the Mountain "Skaroi". By the way, Nikiana is a great place to stay if you are a family with young ages kinds. Because the water is not deep, and the prices of apartments rental are competitive. From Preveza Airport to Nikiana by Car is 29km. The first thing that impresses everyone is the Skaroi mountain. People are using it to leave here centuries ago.
The monastery of Agios Georgios is one of the oldest monastics at Lefkada. Stans at the 350m altitude, Archaeological till today believes, that the sanctuary was founded in the first half of the 2nd millennium BC and reached its peak during the New Palace period of Crete, namely between 1700-1400 BC.
Day 3 – Hiking at Nidri Waterfalls 37km from Lefkada Airport
Whenever go to Nidri the best place to visit for hiking is the Nidri Waterfalls. Nearby to Nikiana driving by car is only 15 minutes. The access is easy, with car parking. Before you go, need to know that are no shops there. Is a good idea to prepare something and taking with you. First, there is a path around 250m by foot. The view is sure it will overcome and pay well with memories.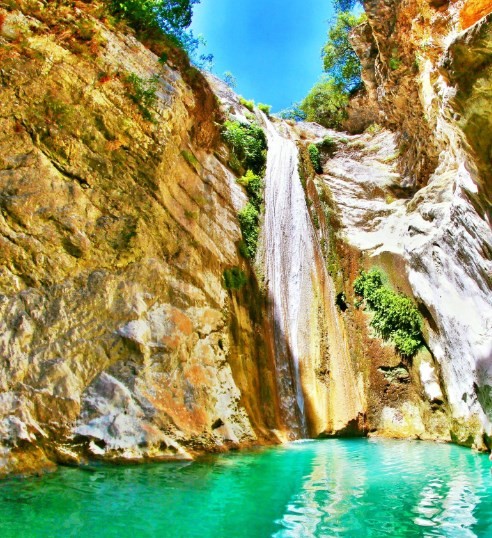 Day 4 – Visit the Ancient Nicopolis how built from the Roman Empire
Today Preveza has a long history, between yesterday and today. it was one of the first big cities, built from the Roman empire aT 31BC. If you are a fan of history, you will find great interest in the ancient city of Nikopolis. Even if you are not. Visiting the place today, you will definitely feel the difference between today and yesterday.
Day 5 – daily cruise excursion to Kefallonia, Ithaca and Skorpios
One of the most popular activities on Lefkada is a daily cruise. Start every day during the summer season from Nidri Port. However, to join this daily cruise you will need to book a day before your cruise ship ticket. There are plenty of choices. As like Eptaninos, Makedonia Palace and Nidri Star 1.
Day 6 – Meet Agios Nikitas 40km from Lefkada Airport
The Agios Nikitas has easy access with a car rental. Get a car rental from Lefkada Airport. Visit this traditional village. Stone roads and excellent restaurants serve fresh fish. Ideal to take time to go to Agios Nikitas. Near is amazing and breathtaking because of Kathisma beach. The most well organized in all Lefkada.
For Young couples is also a popular destination to stay. If you stay at Agios Nikitas and you need a good car rental with cheap prices, call PBG Limitless, and you are covered!
Day 7, 8 – From Lefkada Airport to Parga driving for 65km 
Parga is just Perfect with easy access from Lefkada. If you need a car from Parga, the only you have to do is call a car rental that offers you free delivery. There are lots of things to see and do at Parga. When deciding to go, better to start early. Otherwise, probably one day is not enough. Is not just another beautiful place, is one of the most main reasons to come to Greece. Surely worth to visit places as like
Day 9,10,11 – Lake of Preveza Ziros an undiscovered treasure
There are a few secret places in Preveza, not very famous but surely worth a visit. Lake Ziros is one of them.
According to the locals, 2 sisters lived in this place. The one was very rich. The other sister was very poor. So poor that she fed her sons with the leftovers. Despite this, the sons were very healthy. That fact made the rich sister jealous because her children were very weak. That has been the main reason that finally, separates the two sisters. The poor left her house the reason?. Starting to try a new life far away, in the mountains. One day an angel appeared and told her: Don't go back. Because if you go back, something bad will happen to you. In the meantime, a big earthquake happens and everything collapsed.
The poor sister, without understanding. Turned to look back, to see her sister, and at the same time became stone with her sons and the donkey. According to the local legend, the big rock on the east of the lake is that woman.
Day 12, 13,14 – Make your own plan by spending time with your family
Our vacations are the time we have to relax, think, and organize ourselves for the next day. Everything about us, our family, our future and we always make plans, sometimes big, sometimes shorters. Time is the biggest gift in the life of this planet, does no matter who you are. Or where you believe. Let's everybody create a better tomorrow for our Childers.
Find a family car rental at Lefkada airport and pay much less with a local service. 
Phone call center :+30 6987147566 & +30 2645071063
For Customers support email us at: pbglefkada@yahoo.gr
Did you like this article? Share it! on Facebook – Twitter – Pinterest 
*Till to meet you and greet you, be well with health for you and your families.